Book a full day in a Norwegian hide together with OM SYSTEM Ambassador Jo Stenersen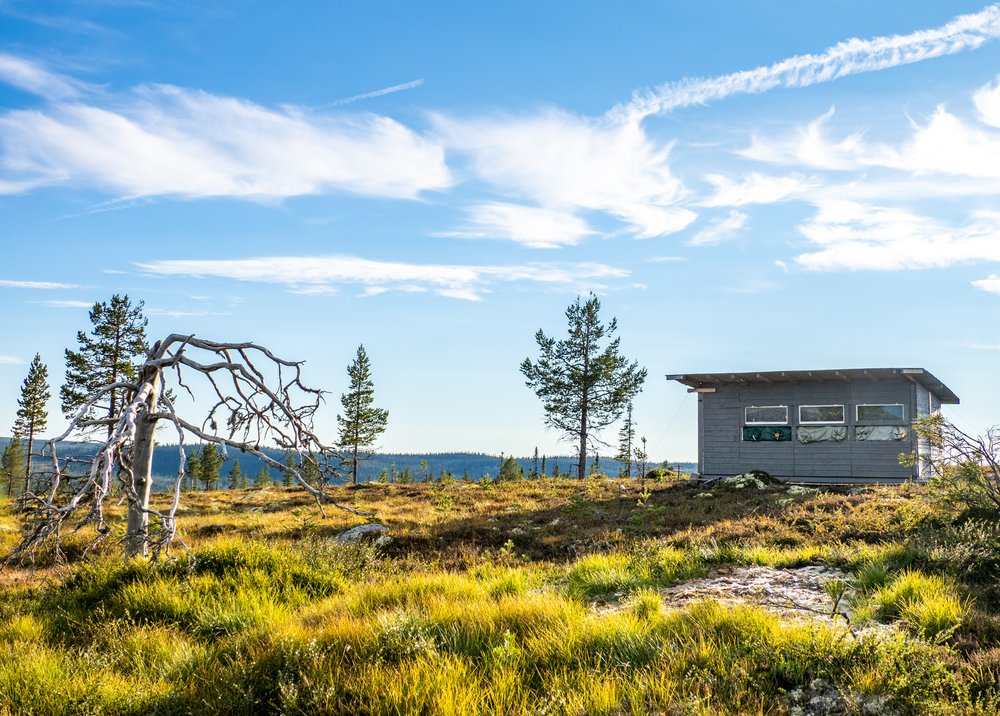 The hide is located in Rendalen about 4 hours north of Oslo.
Beautiful view over the the landscape of beautiful Rendalen with the majestic mountain Sølen as background.
The hide is located at 800 moh at a remote location free from human disturbance of any kind.
6 camera slots: If up to 3 persons use the hide - each photographer will have room for 2 cameras each.

Distance to the animals: 15 meter <
Recommended focal length: > 200 mm
Slight backlight in the morning, sidelight during day and front light at sunset.
3/8" screw mount for gimbals.
You will be brought up to the hide by your guide after dark and sleep comfortably there.
After a day of photography starting before sunrise, you will be picked up after sunset by your guide.
From inside the hide you can from mid-march also hear the sound of black grouse lekking in the early morning.

Most common species:
Golden eagle, raven, siberian jay, hooded crow, eurasian jay and great spotted woodpecker.

More rare species:
Red fox, wolverine, white tailed eagle.
SPACIOUS 15 M2 HEATED AND INSULATED PHOTO HIDE WITH SEPARATE TOILET ROOM.
COMFORTABLE CHAIRS AND BEDS FOR 4 PERSONS.
If you're lucky, the northern lights will dance across the sky so you can take great night photos in the evening and at night. From mid-march you may hear the sound of black grouse or ptarmigan lekking in the early morning hours.
If you wish, it is possible to hire OM System ambassador Jo Stenersen along as a guide and instructor in the hide. He will also help you to optimize all situations and you will receive exclusive personal help and support during your stay. You will of course be able to learn more about your photo equipment and functions of Olympus and OM System equipment as well as get other tips about nature photography.
It is also possible to try out the OM-1 with various lenses if you wish.
You must bring your own food and drink, sleeping bag, headlamp, warm clothes for the trip up and down from the photo hide plus photo equipment and other things you need during your stay in the hide. The same goes for a good travel insurance that is highly recommended. There is no electricity in the shelter, so you may need to bring a power bank and make sure the camera has full batteries. The 4G phone signals are good in the hide.
Transport from and to Oslo Airport Gardermoen can be arranged at an additional cost.
All the guides speak English and a little German.
It is possible to book your stay for the 2023/2024 season already now!
Date for renting the eagle hide:
Mid-December until April 31, unless snow conditions make it impossible to get up to the hide.
Price for rent:
NOK 2,500/person per day (approx. 225€) and then NOK 2,000/person per continous day.
If you want guiding, one-to-one workshop or a personalized arrangement, this will be agreed separately with Jo Stenersen. Get in touch for more information and price.
The stay in the hide and transport is at your own risk and you are obliged to follow the instructions of the experienced guide at all times.
As the golden eagles are wild and very shy birds, there is no guarantee of getting pictures of eagles, but the success rate among our guests is very high!
Read more about the hide:
https://www.stenersenoutdoors.com/the-mountain-hide
Booking and further information:
OM System Ambassador Jo Stenersen
Webpage: www.stenersenoutdoors.com
Instagram: @Stenersenoutdoors/ @Photohide_Rendalen
Mail: jo-sten@online.no
Phone: +47 462 97 765